Eeramide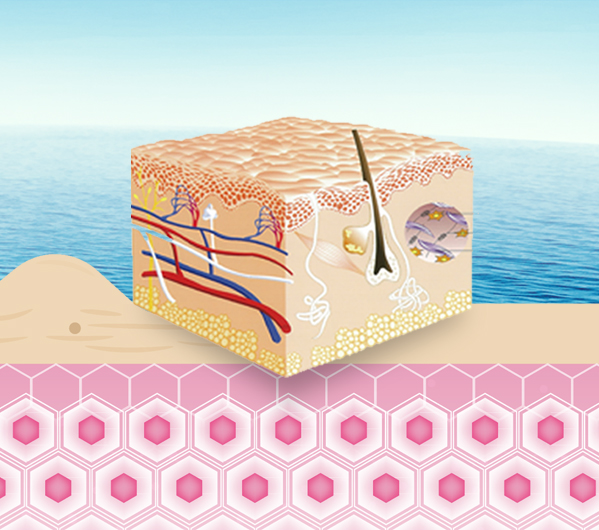 Eeramide:
It Is A Natural Lipid In Skin, Mainly Distributed In Cell Membrane And Extracellular Matrix Of The Cuticle.
Ceramide is generated from cell membrane or sphingomyelin in cell membrane via sphingomyelinase. Ceramide consists of long-chain phytoshingosine and saturated fatty acid connected with its amino terminal. Ceramide forms a layer of waterproof barrier that not only helps retain water in the skin, but also promotes the skin's self-recovery capability and its cell regulation. The skin of newborns is often covered by a layer of "wax", namely vernix caseosa, whose major ingredient is ceramide, which can prevent water loss of the skin.
Ceramide Has Become An Emerging Functional Active Ingredient In Cosmetics In Recent Years. It Has The Function Of Enhancing Immunity And Anti-cancer. In Particular, Ceramide Gives A Long-lasting Moisturizing Performance, Thus It Is Becoming More Popular For Cosmetics. Now The Price Of Commercial Ceramide (With A Purity Of Above 98%) Is As High As $500/kg. The Annual Output Value Of Ceramide-associated Products In The United States Is More Than 10 Billion Dollars. Kao Corporation (Japan) Predicates That Ceramide Will Become A Major Constituent Of Skin Care Products In The Future. Clinical Studies Have Shown That The Secretion Of Ceramide In Skin Will Decline With Age, Which Would Further Cause Dry Skin, Wrinkles And Skin Inflammation, Especially In The Face And Hands. Always Supplementing Ceramide Can Significantly Slow Down Skin Aging And Maintain Youthful Vigor.
Effect
1.Powerful moisture retention:

Ceramide Contains A Large Number Of Hydrophile Groups Showing High Affinity To Water. Ceramide Can Promote Hydration On The Skin, Increase Epidermis Cell Cohesion, Prevent The Skin From Dryness And Furfuration, While Making The Skin Smooth And Elastic. It Can Form A Dual-layer Structure, Effectively Prevent Water Evaporation On The Skin, Penetrate Into The Depth Of Skin, And Promote Dry Skin To Regain The Ability To Retain Water. Thus, Ceramide Has An Outstanding Moisturizing Effect. In Addition, Ceramide Can Activate Aged Cells, Promote Epidermal Cell Division And Basal Layer Cell Regeneration, Enhance Of The Barrier Function (Isolation Protection) Of Skin, And Prevent External Stimulus Invasion. Therefore, Ceramide Is Honored As The "King Of Moisturizing". This Highly Effective Moisturizer, Whose Moisturizing Effect Is 16 Times Of Hyaluronic Acid, Can Be Easily Absorbed By The Skin. The Effective Rate Of Moisturizing For Aged Dry Skin Is 80%.

2.Skin Barrier:

Sufficient Ceramide Can Help Resist External Stimulus. When You Have Insufficient Ceramide, Even Sunshine And Snow Will Make You 'A Vulnerable Woman'.
3.Anti-allergy:

Ceramide Can Help Thicken The Cuticle, Enhance Skin Tolerance, Avoid The Occurrence Of Allergic Reaction, And Repair Redness.

4.Regulate cell proliferation and apoptosis.

5.Anti-aging;

6.Whitening;